The Fund Raising School
Lilly Family School of Philanthropy: Principles and Techniques Four-Day Certificate Course
Originally recruited by the master teacher Hank Rosso, Karla has been teaching in The Fund Raising School (TFRS) program for over 25 years.  This program is nationally recognized as the "center" of fundraising training, because of its association and research ties to the Lilly Family School of Philanthropy at IUPUI in Indianapolis.  During her tenure as adjunct faculty, Karla also trained in the Executive Leadership Institute, under the auspices of Robert L. Payton, Ph.D. (author/scholar/historian) and was greatly influenced by both his ethical and Socratic approach to education.  Today, Karla serves as lead faculty for the Principles and Techniques course, for the public offerings as well as contract courses.

Testimonials:
Karla's fantastic.  Truly – the best instructor I have ever had.

Karla is very good at teaching this course!  This course is very empowering!  The information is a "must have" to be successful in development – I would recommend this course for all new people! Actually – every new development leader truly needs this course!

Karla's love of & skill at facilitating group process & pulling knowledge out of the group was incredible to watch, & so much fun to be a part of it.

The information is very well-prepared, thorough, & helpful.  The style of teaching (interactive, small groups, facilitated free conversation) and peer groups are what made it fun & paradigm shifting.

By far the best element was the energy, enthusiasm & effectiveness that Karla provided in delivering the content.  Karla was a fantastic presenter and engaged us in a way that helped us to recognize challenges and empowered us to think critically in solving the problem.
Click here to learn more about the The Fund Raising School
---
University of St. Thomas in MN – Center of Business Excellence
Fundraising Certificate Program: Leadership, Annual, Donor Motivations
Karla has been teaching in the Fundraising Certificate Program at the University of St. Thomas for over 25 years.  This program is the one of the oldest and most highly respected programs of its kind in the United States.  Over time, the certificate program has graduated thousands of participants, and has received high acclaim for its professionalism.  Of the 8-12 classes in the program, Karla currently teaches three: 1) Personal, Professional and Organization Leadership, 2) Donor Focused Annual Giving, and 3) Donor Motivations & Methods.  For many years, she also taught the Capital, Endowment and Special Purpose Campaigns class.  In her classes, Karla is responsible for developing and delivering the curriculum, as well as providing individual counsel to students.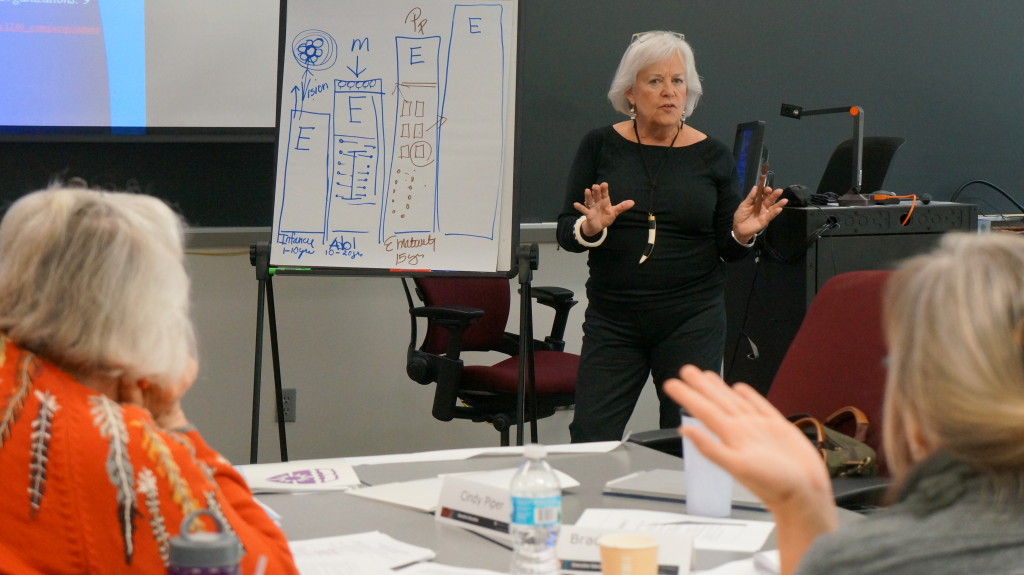 Testimonials:
I am amazed at Karla's basic knowledge; extraordinary instructor – thorough, instructive and interactive class on campaign theory and practice.

Karla rocks; she is a thoughtful and great facilitator of fundraising principles and approaches.

Karla Williams is an excellent teacher; she has tremendous expertise… is practical, informed & experienced–based.  Karla's love of annual giving is absolutely contagious: learned so much that I can apply immediately.

This course helped me to help the staff and board understand the importance of internal planning and an institutional readiness review.

Fantastic Class!  Karla influenced a lot of reflecting on personal leadership and influencing changes in my organizations.
Click here to learn more University of St. Thomas in MN – Center of Business Excellence
---
Leadership Gift School – Institute for Philanthropic Leadership
Eight-Month Certificate Program for Executive Directors and Development Professionals
Karla was a founder and the faculty director of the new Leadership Gift School (LGS), the first program of its kind in the United States, and the keystone project for the Institute for Philanthropic Leadership in Charlotte, NC.  She designs and delivers all the curriculum, and is actively involved outside the classroom with each and every organization who has participated in the school.
In the past six years, LGS has educated, engaged, and graduated five Cohorts.  Certificates were award to 117 nonprofit leaders, (executive directors and development directors) from 54 different Charlotte-based nonprofit organizations.
Leadership Gift School is an intensive eight-month program designed to increase philanthropic revenue from individual leadership donors, to benefit local nonprofit organizations.  LGS's research-based, interactive curriculum was developed to challenge nonprofit leaders to rethink/revamp their fundraising approaches in an effort to encourage more individuals to give generously and meaningfully, and to ultimately strengthen Charlotte's philanthropic culture.

Testimonials:
LGS is a phenomenal experience; it has been invaluable to set aside one day a month to only focus on our Development planning with an expert in the field.

With Development professional and the executive director actively involved, we have developed a shared vision.  The program has added immense value and has already made our programs stronger – and we're not even done with our cohort's sessions yet – we have two more months to go!"

Our board has benefited tremendously as well from how we approach development following LGS principles.  In FY14, our board has given over $100k and our board chair has been responsible for raising an additional $200+k."

LGS has been very beneficial to us.  The professional relationships developed with our LGS Cohort and Faculty has been invaluable to us.

As a result of the program, we reorganized our development department starting first with new staff leadership and then restructuring positions and responsibilities.  Doing so was greatly influenced by what I, the executive director, had learned from LGS.
Click here to learn more about Leadership Gift School
---
Leadership Gift School Graduates
During the past six years, 43 organizations and 93 nonprofit leaders have attended Karla's Leadership Gift School Course.  Each year, the LGS Cohort of executive directors and their respective development director attend eight full day sessions scheduled monthly between September and June.  Through the entire course, leadership principles are integrated with marketing approaches, supported by innovative major gift strategies.
---
St. Mary's University of MN
Philanthropy & Development Masters Degree: Leadership Skills (2 Graduate Credits)
Upon completion of her masters in Philanthropy and Development 20 years ago, Karla was recruited to teach in the program she had graduated in.
She designed the first leadership course, for development professionals, focusing on the integration of personal, professional, and organizational leadership.  Since the subject matter was absent from the published literature, she designed the course using a vast array of journal articles published by nonprofit leaders, and her own book, Donor Focused Strategies for Annual Giving (the outcome of her Masters Thesis).  Over time, the curriculum was enhanced by books written for the nonprofit sector, and also by colleagues and top professionals in the business.  Eventually, this original curriculum led to a book for executive Directors, Leading the Fundraising Charge, published by Wiley in 2013.  Over the years, Karla has inspired approximately 4,000 master's level graduates to lead a purposeful and ethical life advancing the nonprofit sector in the role of development professional.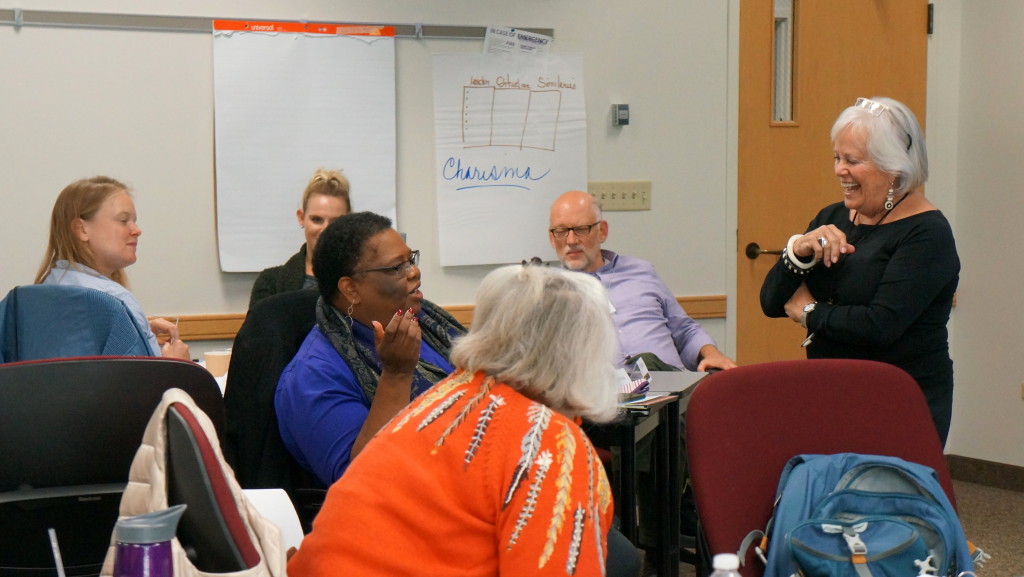 Testimonials: 
This course was superb.  I have never been more pleasantly challenged and enlightened.  Karla Williams has a gift for teaching.

Karla connected with every member of the cohort and had the knowledge, experience and commitment to help us gain new perspectives on our roles as nonprofit leaders.

This course was inspiring and applicable to life and work.  Karla was inspiring and engaging and helped make the connection between leadership and where I am in my career through various examples and in-class activities.  The historical foundational aspects of philanthropy were so interesting and helpful putting philanthropy into context in the world.

This course has completely changed my perception of leadership.  It has also challenged me to broaden my knowledge base and leadership skills.

I found this course to be very enlightening and inspiring.  I have already begun to apply some of what I learned through this course at my job.
Click here to learn more about St. Mary's University of MN
---
View a complete list of upcoming Presentations, Workshops and Training